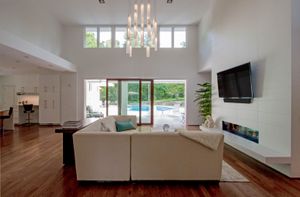 As owners, we were very involved in the building process, and Marcus organized and listened to our ideas. In a few words, most importantly, we would do it all over again. We love our new home.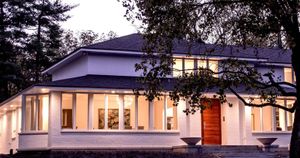 Marcus was very thorough in identifying our lifestyle and understanding our needs. This programming process entails lots of conversation concerning design preferences, functionality, style, quality, and cost. Marcus' originality made our house unique.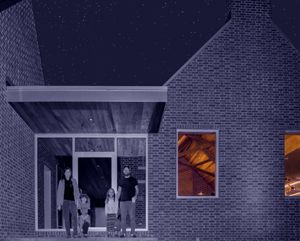 We came to Marcus with our design inspirations and needs for a house. Marcus perfectly translated everything we asked for into the house of our dreams. The house we wanted was both modern and rustic, but also extremely functional for a young family. Marcus was able to blend those somewhat contrasting elements seamlessly while including aspects of the local vernacular. When we discussed all the different options for materials as the project developed, Marcus was very knowledgeable about everything that is currently available and helped steer us in the right direction. Choosing Marcus to design our house was one of the best choices we have made.
Hadwin & Sarah Brown, homeowners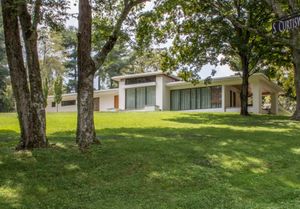 Expertise: He allowed his previous clients to do the talking [regarding his professionalism]. Then he integrated himself in the contractor selection, leading the design into reality at every juncture. He definitely tackled zoning and code issues in our project and developed creative solutions for challenges that have occurred . Strengths: Listening, thoughtful design, passion for the project, patience, eye for detail, knowledge of products and construction, and conveys a comfortable nature.
Anne and Arnie Malham, homeowners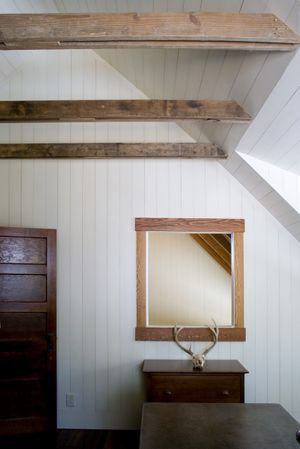 Let me start by saying, we absolutely love our home (Blazer Farmhouse). Let me be more specific. I'm a mom and a writer, so I am home most of the day, everyday. I love it during the day with all the light coming in various angles. I love it at night when there is no natural light and I find myself warmed by a combination of textures and well-designed spaces. I love it in every season and in all kinds of weather. I love that there is a vista worth my time through every window and every doorway, including interior doorways. The only thing I love almost as much as the house itself is the collaborative process we went through to create it.
Michelle and Jim Alcott, homeowners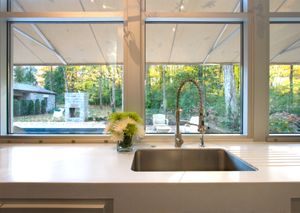 Marcus took a home that was a typical '60s ranch and presented us with a vision of a two story home built of hand cut stone with a metal roof that would have a modern aesthetic while also conveying the sense of a country farmhouse. He was able to mesh old world classic design with a modern sensibility. Handling Difficulties: Marcus did a fine job of presenting our plans to the Belle Meade board. We ran into zoning issues that were unique to Belle Meade, and Marcus was able to work through these, some of which were quite technical. Furthermore, Marcus has an ability to work through construction problems and find solutions.
name withheld - Belle Meade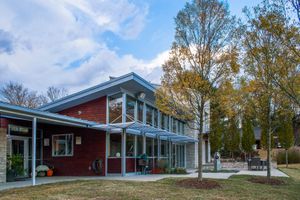 As Collaborator: We never had an issue with blame during this building process. I know that's uncommon but it's true. The contractor and Marcus performed as a team. Professional Style: Marcus is great at combining knowledge (engineering, interior design, HVAC expertise, etc.) and does it with the heart of a teacher. He's always willing to share the WHY. Next house we build, it will be him again.
Sandy and Rob Beaty, homeowners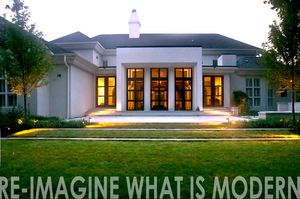 Signature Style is Subtlety. Marcus works with so many different people with different demands and expectations, and yet he consistently exceeds their expectations because as a design Architect, Marcus has a process for solving their problems. I could have gone with an architect who only does modern or designs one signature style but I feared getting an "obvious" bump out design. Flexible and not afraid of complexity, I found Marcus to be an architect who can blend existing features of the home with the new beautifully. Practically speaking, Marcus is a great listener and problem solver.
Lisa Usdan, homeowner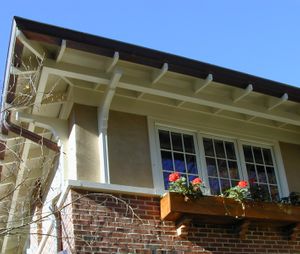 Considerate Leader
We have people remark all the time about small features in our house that Marcus designed. He has an ability to translate your living style into a project that will satisfy your needs. He listened to our concerns and addressed them with complete resolution. He has an ability to communicate with contractors and personally focuses on the project to meet deadlines and complete timelines. Attention to detail and cost are paramount in his planning.
Richard Williams, homeowner
Exceeding Expectations
Marcus is creative and inventive. He listens to your thoughts and dreams to really understand what your wishes are... and turns them into tangible concepts that meet and exceed what you thought could be. His attention to detail is remarkable. People remark all the time about small features in our house that Marcus designed.
Marcus demonstrated leadership in cost control, construction issues and design challenges. Marcus was able to communicate guidance to all the different trades and general contractor. He was very helpful in assisting in any finish choices and materials. Marcus is able to present innovative materials and building techniques that most people are not aware of.
Linda Williams, homeowners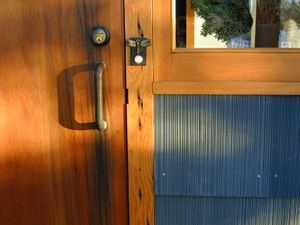 Pleased with the Process
Skilled Craftsman: Marcus engineered an award-winning design for us that exceeded Alaska's stringent snow and wind requirements without compromising design criteria. Marcus is the consummate architect--part designer, engineer, artist and counselor. His breadth of experience yields masterful work. Marcus's integrity and his ability to listen are unparalleled in his profession.
Thomas and Susanne Pease, homeowners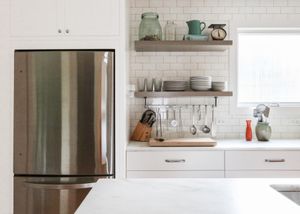 Creative Insights
I could write pages of examples of why Marcus is a superior architect; the common thread in every example would be trust. We trusted Marcus to understand our goals in adding on to a 130-year-old small house, transforming a neglected 1000-square foot space into our vision of a hip urban cottage that comfortably accommodates a family of four. Marcus delivered on all fronts. Marcus listened. He took time to understand our tastes and priorities while respecting our budget before starting on the design. The finished product reflected all we prioritized and also included creative insights we hadn't considered. Exactly what one wants in an architect— a professional who offers features we had not thought of while understanding what really works for us based on who we are. We have lived in our finished home for about a year now, and the more time we are here, the more we really appreciate how well the house functions for us, and how elegant the space feels. Marcus was our sounding board, our frustration manager, our advocate, our expert. We are so happy in our home because of his respect for us and our trust in him. Thanks Marcus.
Laura Berenger, homeowner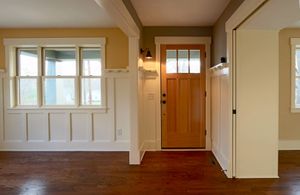 Where Rubber Meets the Road
Thoughtful and Attentive: After impressing me with his initial design, I felt more comfortable trusting Marcus' suggestions as far as product selection, construction methods and details, and aesthetics. Having worked with another architect on the first home I built, I really appreciate that Marcus is much more hands-on, coordinating with the builder to deal with the difficulties and unexpected problems that arise.
Carol Paris, homeowner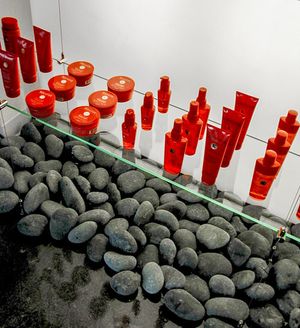 Proactive Listener: He is a skilled listener. He cares so much that it is so easy to trust him. He seems to take it on like it is his own personal project. Marcus takes a lot of the pressure off us as clients and handles the problems that arise with such ease and confidence. I know when a sub runs into a problem and Marcus intercedes, it will get done the correct way. I've never lost sleep during a project because I know Marcus will handle the tough stuff! Aesthetically, Marcus has been able to translate our vision for our business better than we could have ever imagined. I honestly do attribute the success of our spa to the fact that it was so beautifully designed from the beginning. It has a positive effect on everyone that walks in our door.
Tami Sprinz, owner of Escape Day Spa & Salon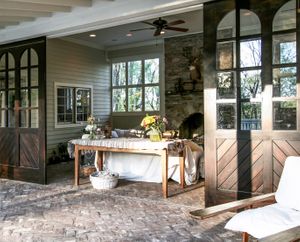 From Vision to Reality
Optimum Results: Marcus picked quality materials that gave us the historic look we wanted that required minimum maintenance. He gave us confidence that our structure was sound and worked hard to make our vision of what we wanted a reality.
Bob Crosby, homeowner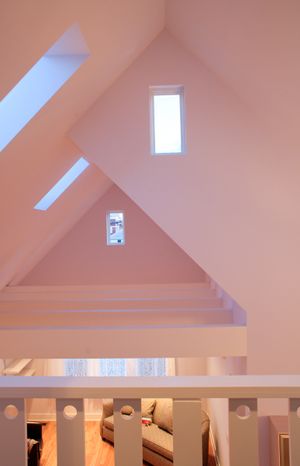 Lovely
His plan was way beyond anything I had imagined. The design is very pleasing; I often sit in the living room and marvel at the lovely space. Smart Design: Visitors to my new home always comment on how well it meets my needs and how the public spaces are perfect for entertaining. Marcus knew the best products to make my home energy efficient and well-built.
Bonnie Bashor, homeowner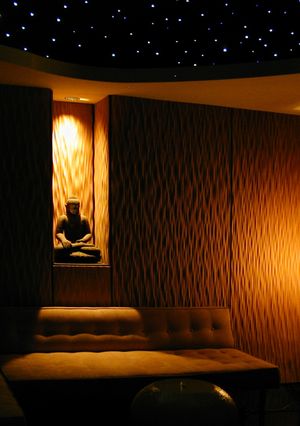 Marcus is just so brilliant with great foresight. He seems to know what we need for our project before we do. His designs are so thoughtful and never rushed. He thinks of things that we would never know we even wanted. He is also so easy to collaborate with and is very open to hear the clients ideas and desires, which is so important for the end result.
Tami Hall, owner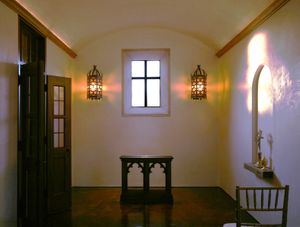 Home Chapel & Library & Loggia
Tom & I just returned from a week in Florence and saw many loggias but none to compare with ours! We are enjoying all of the editions to our home.
name withheld, homeowner